Rotary unit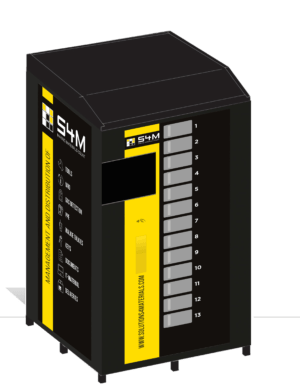 The S4M rotary unit consists of a metal housing that is placed on a robust metal frame.
The major advantage of the rotary unit is that you can manage a large quantity of materials in a small space, because the system has a rotating platform on which the products are placed in separate compartments. This type of dispensing unit is mainly suitable for distributing smaller tools and equipment such as nuts and bolts, screwdrivers, safety goggles, gloves, disposable clothing, dust masks, filters, etc.
The rotary units by Solutions4Materials can be linked together or combined with a locker unit and/or quicklocks. If you only want to use rotary units, then one of the units is fitted with a control panel with an integrated industrial PC, a 15-inch touchscreen and an access module with a personal badge, PIN code or fingerprint.
.